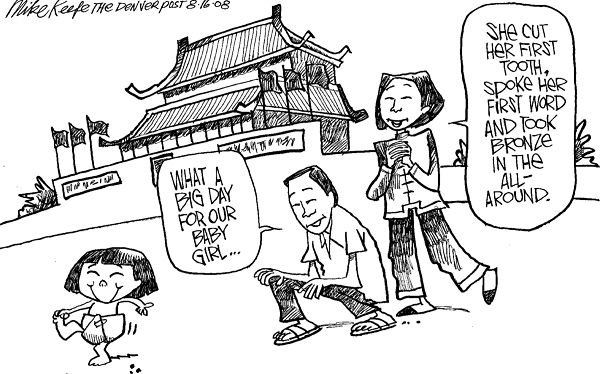 Today is Saturday,
August 16
, the 229th day of 2008.
There are 137 days left in the year.
Today's Highlight in History:
On

August 16, 1977

, Elvis Presley died at his Graceland estate in Memphis, Tenn., at age 42.
On this date:
In

1777

, American forces won the Revolutionary War Battle of Bennington.
In

1812

, Detroit fell to British and Indian forces in the War of 1812.
In

1858

, a telegraphed message from Britain's Queen Victoria to President Buchanan was transmitted over the recently laid trans-Atlantic cable.
In

1948

, baseball legend Babe Ruth died in New York at age 53.
In

1954

, Sports Illustrated was first published by Time Inc.
In

1956

, Adlai E. Stevenson was nominated for president at the Democratic National Convention in Chicago.
In

1960

, Britain ceded control of the crown colony of Cyprus.
In

1978

, James Earl Ray, convicted assassin of Dr. Martin Luther King Jr., told a Capitol Hill hearing he did not commit the crime, saying he'd been set up by a mysterious man called "Raoul."
In

1987

, 156 people were killed when Northwest Airlines Flight 255 crashed while trying to take off from Detroit.
In

2000

, delegates to the Democratic National Convention in Los Angeles nominated Al Gore for president.
Ten years ago:
Protestants and Catholics in Northern Ireland united in uncomprehending grief over the car bomb slaughter of 29 people in Omagh a day earlier.
A day before President Clinton was to face a criminal grand jury concerning his relationship with Monica Lewinsky, his lawyer said, "The truth is the truth, and that's how the president will testify."
Five years ago:
The Midwest and Northeast were almost fully recovered from the worst power outage in U.S. history.
A car driven by U.S. Rep. Bill Janklow ran a stop sign on a rural road in South Dakota and collided with motorcyclist Randy Scott, who died in the accident.
Idi Amin, the former dictator of Uganda, died in Jiddah, Saudi Arabia; he was believed to have been about 80.
One year ago:
Jose Padilla, a U.S. citizen held for 3 1/2 years as an enemy combatant, was convicted in Miami of helping Islamic extremists and plotting overseas attacks. (Padilla, once accused of plotting with al-Qaida to detonate a radioactive "dirty bomb," was later sentenced to 17 years and four months in prison on the unrelated terror support charges.)
A cave-in killed three rescuers in the Crandall Canyon Mine in Utah; the search for six trapped miners was later abandoned.
Today's Birthdays:
Actor Fess Parker is 84.
Actress Ann Blyth is 80.
Actor Robert Culp is 78.
Sportscaster Frank Gifford is 78.
Singer Eydie Gorme is 77.
Actress Julie Newmar is 75.
Actor John Standing is 74.
Actor Gary Clarke is 72.
Actress Anita Gillette is 72.
Actress Carole Shelley is 69.
Country singer Billy Joe Shaver is 69.
Movie director Bruce Beresford is 68.
Rhythm-and-blues singer Robert "Squirrel" Lester (The Chi-Lites) is 66.
Actor Bob Balaban is 63.
Ballerina Suzanne Farrell is 63.
Actress Lesley Ann Warren is 62.
Rock singer-musician Joey Spampinato (NRBQ) is 58.
Actor Reginald VelJohnson is 56.
TV personality Kathie Lee Gifford is 55.
Rhythm-and-blues singer J.T. Taylor is 55.
Movie director James Cameron is 54.
Actor Jeff Perry is 53.
Rock musician Tim Farriss (INXS) is 51.
Singer Madonna is 50.
Actress Angela Bassett is 50.
Actress Laura Innes is 49.
Actor Timothy Hutton is 48.
Actor Steve Carell is 45.
Actor Donovan Leitch is 40.
Actor Andy Milder (TV: "Weeds") is 40.
Country singer Emily Robison (The Dixie Chicks) is 36.
Actor George Stults is 33.
Singer Vanessa Carlton is 28.
Actress Agnes Bruckner is 23.
Actor Shawn Pyfrom is 22.
Country singer Ashton Shepherd is 22.
Thought for Today:
"If a man wants his dreams to come true, he must wake up."




Anonymous.
"Let's all be careful out there!"